Looking for something that's engaging, educational and fun for your School Holiday Program? How do you capture the attention of 6 – 12 year old children, boys and girls, active and non – active, social and non – social, all at the same time, while keeping them engaged, motivated and having fun?
Silent Disco 4 Kids is Australia's most popular School Holiday Program. There are 4 programs described below.
​SILENT DISCO 4 Kids Holiday/Resort Programs.
Party Higher have developed a series of interactive Holiday/Resort Programs that combine technology, music, dancing, games, trivia, physical activities, mindfulness and more all through our special headphones and conducted by our professionally trained Party Facilitators who will have all your children fully engaged. We guarantee it will be the best Holiday/Resort Program they have ever had.
Silent Disco is the latest craze sweeping the world. It doesn't use a traditional speaker system, but rather provides each child with a set of high quality sounding, wireless headphones. Each child can adjust their own volume level
making it safe for even hearing impaired children.
Each Holiday/Resort Program listed below delivers the following Learning Outcomes:
– Builds confidence
– Promotes team work
– Provides exercise
– Fosters creativity
– Encourages listening skills
1. Silent Disco 4 Kids Party Holiday/Resort Program (Headphones provided) * #1 *
Professional DJ/Party Facilitators will have your kids engaged, entertained and having a blast. Combines numeracy games, co-ordination, collaboration, vocal confidence and memory and listening skills. Includes lights, lasers, smoke machine and Party Higher's exclusive Light up Limbo Bar.
Duration: 1.5 hours
Available in VIC, NSW, QLD, NT, WA, SA, TASI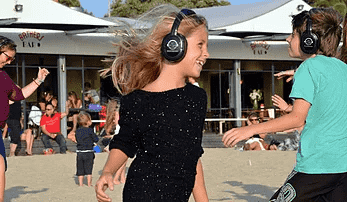 2. Silent Hip Hop Holiday/Resort Program (Headphones provided) *REVAMPED*
This phenomenon is silently rocking the world, but this time kids will learn a
range of Hip Hop and crazy dance moves and play interactive party games for all ages. Kids dance away with disco lights, lasers and a smoke machine. Kids will learn some new cool dances or just enjoy the fun interactive games and activities. Your kids will go home saying "that was so much fun".
Duration: 1.5 hours
Available in VIC, NSW, QLD, NT, WA, SA, TASI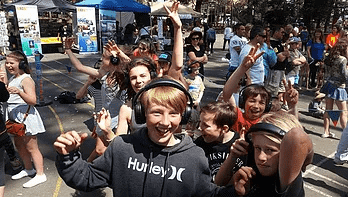 3. Silent 3B Sports Holiday/Resort Program (Headphones provided) *NEW*
The ultimate Sports themed Holiday/Resort Program providing FUN, INCLUSIVE and ENGAGING activities that will stimulate your kids.
Body (Promoting physical movement, co-ordination and teamwork with cool games such as: Bean Bag Shot-put, Boxercise, Tag and Dancing)
Brain (Olympic/World Trivia educating kids with sports techniques)
Belief (Mindfulness through a guided headphone meditation and Positive thinking Sports stories).
Party Higher's 3B SPORTS program will combine Wireless Headphone Technology (Silent Disco) with Sports Games and Trivia & Meditation to create an energetic, fun filled, inspirational experience for your kids.
Up to 24 kids = 1.5hr Holiday Program session
25 – 100+ kids = 2 x 1hr Holiday Program sessions
Available in VIC, NSW, QLD, NT, WA, SA, TASI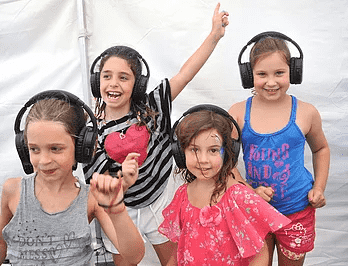 4. The M.A.D. School Holiday/Resort Program (Headphones provided) *NEW*
You would be MAD to miss Party Higher's Music, Art & Dance Program.
From the creators of Silent Disco 4 Kids Party, Silent Hip-Hop & 3B Olympics, Party Higher have created the craziest, fun, interactive Program that combines creative art, dancing and games all whilst listening to different music through special wireless headphones. Our facilitator will instruct them taking them through a series of activities that will have them smiling like the Mona Lisa.
The Children will have an awesome time – Just don't tell them it is therapeutic and educational.
This program was developed with the help of the Australian Creative Arts Therapies Association, the Australian Music Therapy Association and the Dance Therapy Movement Association of Australia.
Guaranteed to be FUN, CREATIVE & ENGAGING for all ages
​Duration: 1.5 hours Or 2 x 1hr sessions if more than 50 kids
Available in VIC, NSW, QLD, NT, WA, SA, TASI
​5. World Games – A Multicultural Holiday/Resort Program (Headphones provided) *NEW*
Australia is one of the most multicultural countries in the world, so Party Higher developed a bonding, multicultural, FUN Event.
Imagine experiencing music, dance & games from around the world. Kids will have a ball playing different games from different cultures whilst listening to music from around the globe, learning famous overseas dances and competing in a world trivia contest. This program is a multicultural experience that will bring together children of all backgrounds to teach them tolerance, equality and most importantly, that regardless of nationality, religion or belief we are all the same.
​Duration: 1.5 hours
Available in VIC, NSW, QLD, NT, WA, SA, TASI
– Guaranteed* to be the best Fun ever.
More importantly we can tailor a specific solution around your school curriculum, so talk to us today and make your next school Holiday Program an unforgettable experience.
Party Higher would love the opportunity to further discuss your School Holiday
Program or
– School Disco/End of Term/Graduation Party
– School Fetes
– School Incursions
– School Fundraisers