Silent Disco Hire Sydney Services
Unwind with "Party Higher", a new level of fun for folks in Sydney. Welcome to the world of Silent Disco, you have arrived at the right place if you are looking to hire us for your next unforgettable event. We specialise in offering full-fledged Silent Disco Hire in Sydney. Party Higher operates not only in Sydney, we cover the whole of New South Wales. We are the best Australian Silent Disco and the only company with staff and equipment in each state.
Silent disco hire Sydney is what Party Higher specialise in. We offer professional DJ's, amazingly skilled staff, eye catchy light up headphones, interactive Entertainment and much more. Party Higher even offer a 100% FUN Guarantee. It does not get any better then this!
Interesting silent disco hire events
Silent disco hire services 4 kids Parties
We are the one and only silent disco hire for kids parties, birthday parties, this limited theme party for little ones by Party Higher provides safe volume levels for them. We also offer incredible activities and games for kids and we guarantee it will be the best birthday party ever!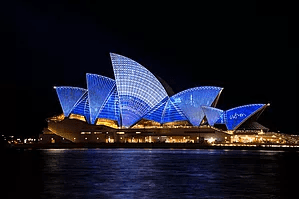 Silent disco hire services for school events
Collaborated events for school holiday programs have extended to a whole new level with Party Higher. Every young school student, who has participated in our events takes away an array of unforgettable experiences and loads of laughter.
Silent disco hire services for birthday parties
Have you ever dreamed of a birthday party where all your friends can enjoy every song that you play? Even your family can't resist to join the fun. We guarantee a Party for you with unlimited FUN. Allow us to bring your dream party to life with a professional DJ, lasers, lights, smoke machine, headphone stands, signs, licensed music playlists and more.
Silent disco hire services for corporate event
Hosting corporate events can now be hassle free. Every single corporate event that Party Higher do provides an amazing experience for your staff/colleagues. Join Cotton on and Pfizer as visionary companies hire us to do our Silent Team building, Silent Conferences and Silent Discos. Bragging alert! Hosting Woolworths and Cisco events each year adds another feather to our cap.
Silent disco hire services for wellbeing
We at Party Higher have a range of recreational activities such as silent yoga, silent dance classes, silent exercise and silent aged care services and more. Research has proved that doing such activities with music through headphones can enhance the experiences. We will have everyone engaged and joining in.
Silent disco hire services for festivals
It is undoubtedly the most happening event, with loads of laughter, happy faces and more. We at Party Higher offer a range of service for these events, be it large scale or small scale we will provide a top-notch service for all. We can tailor your requirements based on your event. If it's our award winning children's entertainment or three channels of DJs with a battle of the DJ's, we will take your festival to a new level of FUN.
We provide a range of cool and unique party services for entertaining events. 100%FUN Guaranteed or your money back. Looking for something different that will make you the Hero then contact us for an experience of a lifetime.
If you want a fun interactive and cool experience at your next event then Party Higher is the answer. Book Silent Disco Hire Sydney or Silent Disco Hire in NSW today. Call us now 1300 734 726.