Interactive Photo Booth
With new Augmented Reality (AR) technology, you are able to invite your guests into a world of their own making. The screen is set, the guests step in and the interactive fun begins. Using simple hand movements guests select their own digital backgrounds and virtual novelty props. After gesturing to 'snap', copies are printed right on the spot!
1. Up to 5 guests step in front of the camera and magically appear on a large monitor.
2. 3D props begin appearing on screen. Guests browse though and collect virtual props by raising their right hand above their head and opening and closing it.
3. Once ready to shoot the guests pull down the virtual gesture slider and 3..2..1.. snap!
4. Guests collect their very own branded photo to take home.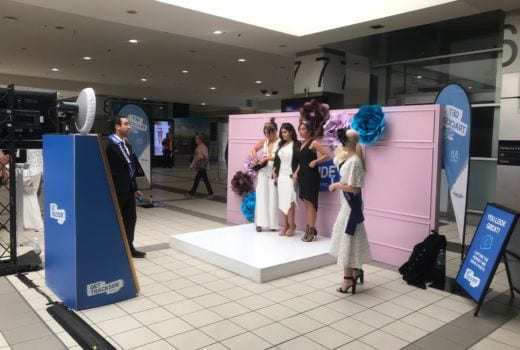 New Augmented Reality Technology Utilising the latest 'AR' technology, participants use virtual props and select from digital backgrounds to create their own photo Fully Customised Branding Options Make it your own and make your brand known with a custom graphic frame, custom designed props and a custom branded setup
* Up to 5 Participants at one time We've got groups covered! Typical Photobooth only accommodate 2 people comfortably. Here, up to 5 people can join in together
* No Backdrop Required Without a backdrop needed the station can be set up in just 1x1m space. Have a larger area to cover? It can grow up to 3x3m as required.